While I feel Nintendo didn't really bring out the big guns to E3 this year, they still had some interesting announcements during their presentation.
Super Smash Bros Ultimate x Tekken
After a brief introduction and a reminder that the Nintendo Switch is entering it's 5th year on the market, the event kicked off with the second to last Super Smash Bros Ultimate character reveal, Kazuya from Tekken gets ready for the next battle!
That means we now have characters from Street Fighter, The King of Fighters and Tekken! (Do I include Little Mac from Punch Out! here?) Check out the reveal here:
Nintendo Switch Headlines
In the first interlude of their E3 presentation, Nintendo showed off a number of trailers from 3rd party publishers that are coming to the Switch, these include:
Life is Strange Remastered Collection (TBC 2021)
Life Is Strange: True Colors (September 10th)
Marvel's Guardians of the Galaxy (October 26th)
Worms Rumble (June 23rd)
Astria Ascending (September 30th)
Two Point Campus (TBC 2022)
Super Monkey Ball: Banana Mania (October 5th)
Mario Party Superstars (October 29th)
Metroid Dread (Metroid 5)
While Metroid 4 was only briefly mentioned ("We're still working on it"), I was surprised to see another Metroid game getting announced, and as an added bonus it's coming out this year, October 8th! Metroid Dread is a new side scrolling Metroid title, something we haven't seen in 19 years.
It takes place after Metroid Fusion (Gameboy Advance) and tried to continue the horror theme to this title as well. The game seems to take mechanics from the last Metroid game to be release; Metroid: Samus Returns, so if you were a fan of the previous game or Fusion this should be fun. Check out the trailer here:
Oh! We're also getting a sweet deluxe edition of the game and a cool set of Amiibos featuring Samus and the new enemy, E.M.M.I.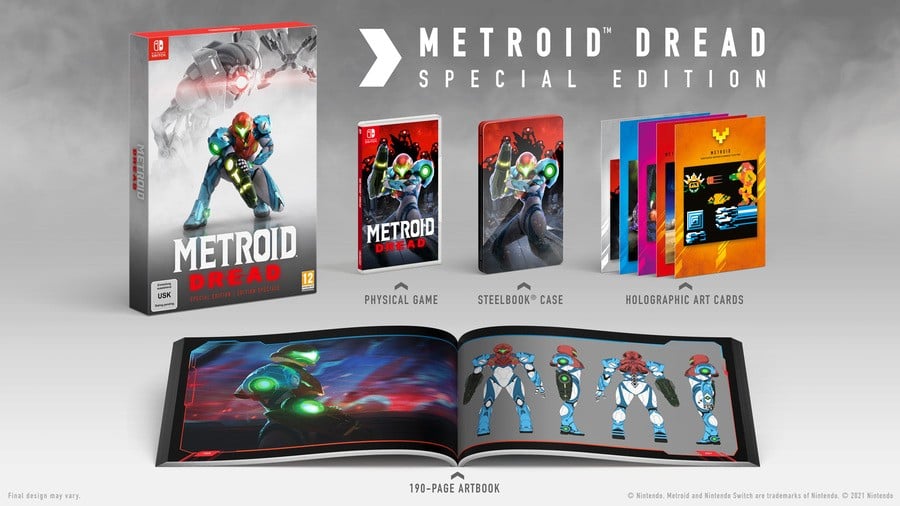 More Nintendo Switch Headlines
The second round of interlude titles in the presentation include:
Just Dance 2022 (November 4th)
Cruis'n Blast (TBC 2021)
Dragon Ball Z: Kakarot + A new power awakens set (September 24th)
Mario Golf: Super Rush (June 25th)
Monster Hunter Stories 2: Wings of Ruin (July 9th)
WarioWare: Get it Together! (September 10th)
Shin Megami Tensei V
Next up, Shin Megami Tensei 5, your typical JRPG where you play as a young girl who gets sucked into another dimension where angels and demons reside. Fusing with a mysterious figure, you now gain the ability to fight off the demons! While this isn't my kind of game, it might be yours, check it out:
More Nintendo Switch Headlines
Our last batch of Switch headliners before the game we've all be waiting for gets an update…
Danganronpa Decaence (TBC 2021)
Fatal Frame: Maiden of Black Water (TBC 2021)
Doom Eternal: The Ancient Gods (Available now)
Tony Hawk Pro Skater 1 + 2 (June 25th)
Strange Brigade (Available now)
Mario + Rabbids: Sparks of Hope (TBC 2022)
Advance Wars 1+2: Re-Boot Camp (December 3rd)
Legend of Zelda Updates
Finally, we get to the meat of the presentation, Legend of Zelda news!
Hyrule Warriors: Age of Calamity is getting it's first expansion pass. This will be dropping in two waves. Pulse of the Ancients will be available on June 18th. This first wave includes a new character, some new weapons, challenges and tougher enemies. Guardians of Remembrance, wave 2, will be dropping some time in November this year. This wave will include new character vignettes, a new level and some new battle skills for existing characters.
For those of you who haven't seen Hyrule Warriors, it's effectively Dynasty Warriors (The series that first came out in 1997 on the PS1) but with a Legend Of Zelda skin slapped on.
Following from this we got a reminder that The Legend of Zelda: Skyward Sword HD is releasing next month (July 16th) and a brief gameplay trailer.
Legend of Zelda Game & Watch System
Legend of Zelda producer, Eiji Aonuma, then produced a green and gold Game & Watch system from his front pocket, showing what now looks to be Nintendo's continuing hardware release.
Last year Nintendo released the Mario Bros Game & Watch system and now we have a Legend of Zelda version which features fully playable games of the original Legend of Zelda, Zelda II: The Adventure of Link and the Gameboy version of The Legend of Zelda: Link's Awakening.
Similarly to the Mario version, this Game & Watch system can be used as a clock. Eiji also unfortunately confirmed that this is the only campaign Nintendo are doing for the 35th anniversary of the original game. This Game & Watch system will be launching November 12th.
Breath of The Wild Sequel Footage
This is it, the moment we've been waiting for, Breath of the Wild 2 info! And long story short, the game isn't coming out until some time in 2022… but we got a trailer showing some new features off. I'll let you be the judge.
Conclusion
Welp, that's it for Nintendo's presentation. While there were some nice little surprises, a new Wario Ware game, Advance Wars Remastered and a new Metroid game (all launching this year), I felt Nintendo definitely held back. No Switch Pro/2 news. Nothing more on Metroid 4 and no Breath of the Wild 2 releasing this year. Heck, there wasn't even a mention of Pokemon and it's their 25th anniversary.
Here's hoping Nintendo are going to surprise us with something at the end of the year. This Nintendo fan boy can only hope.