Microsoft has, this morning, announced that pre-orders for the Xbox Elite Wireless Controller Series 2 have now opened across Australia ahead of its launch on 4 November 2019.
More customisable than ever before, the Elite Controller Series 2 ($249.95 AUD/ $279.95 NZD) represents the very best innovation, performance and durability available in an Xbox controller – providing gamers with over 30 new ways to play like a pro.
The full details on the second iteration of the Xbox Elite Wireless Controller can be found in the official release below.
Meet the Xbox Elite Wireless Controller Series 2, Over 30 New Ways to Play like a Pro
With the launch of the original Xbox Elite Wireless Controller in 2015, Microsoft wanted to give gamers a new way to play at their full potential. Through partnering with members of the gaming community, the company developed a premium gaming controller that offered levels of customization which surpassed any previous Xbox controller. In the last four years, the response from fans around the innovative features in the Elite controller has been incredibly positive, and the team behind the controller's development have learned a lot about how passionate gamers play. They've applied those learnings toward the newest member of the Xbox accessories family, available for pre-order today –the Xbox Elite Wireless Controller Series 2.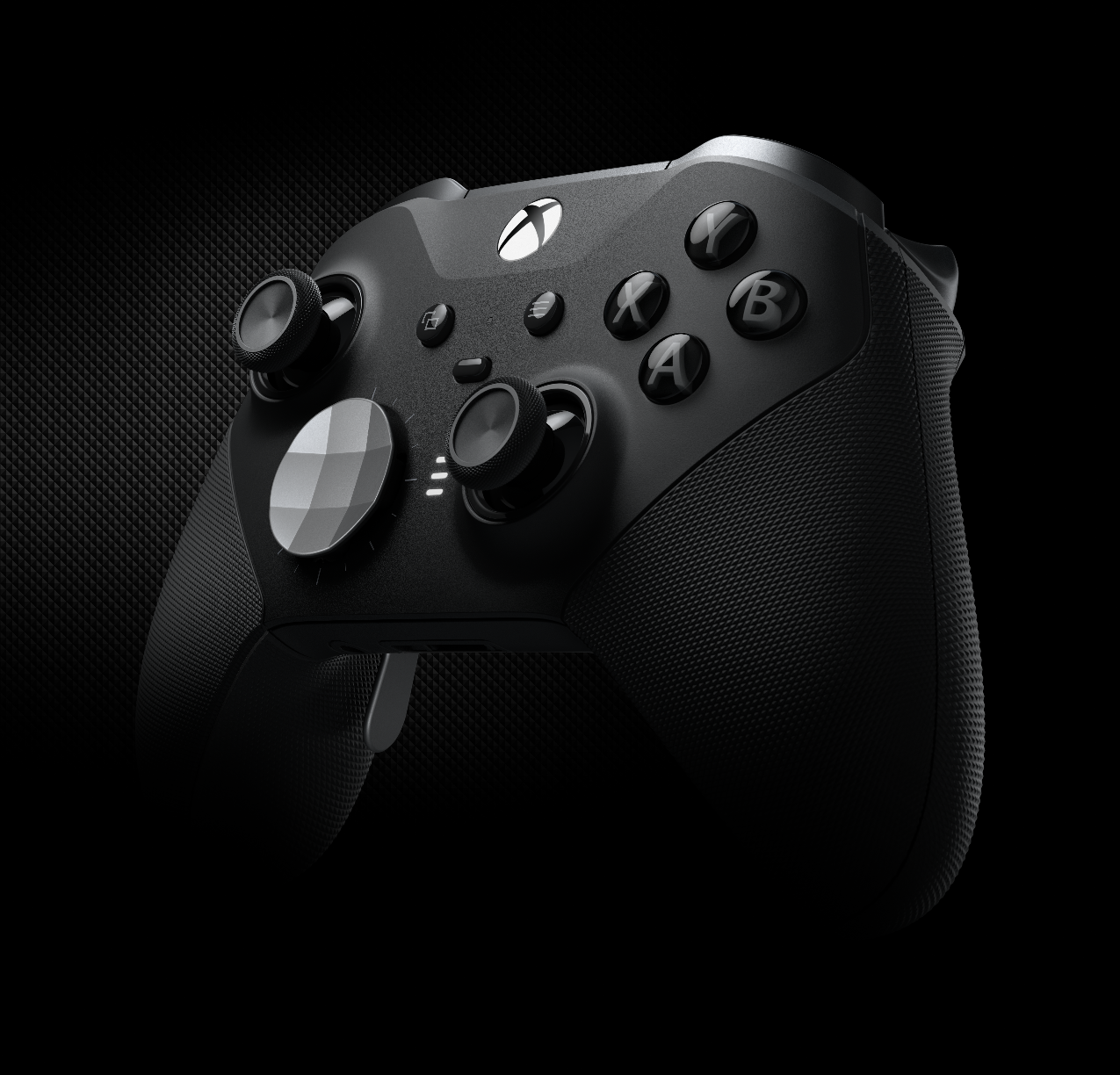 The World's Most Advanced Controller
Making Elite Series 2 the world's most advanced controller ever was Microsoft's guiding light throughout the process. Compatible with Xbox One consoles, Windows PCs, and other platforms that support the Xbox controller family, the new controller includes over 30 new and improved features focused on what fans care about most:
Unmatched performance. The Elite Series 2 builds upon learnings from the original Elite Controller and provides a cutting-edge gaming controller experience unlike anything else on the market today. A brand-new feature that comes with the Elite Series 2 is adjustable-tension thumbsticks. You can choose between three different resistance settings, including options to match the same thumbstick resistance as Xbox 360 or standard Xbox One controllers. The new controller also comes with an additional, shorter hair trigger lock setting where the trigger pull distance is shorter than ever, helping you fire faster.  The controller now automatically recognizes adjustments to the hair trigger locks, so you won't need to make changes in the Xbox Accessories app each time you change the trigger locks. Additionally, new wrap-around rubberized grips extend to the top of the controller for more control and comfort.
More ways to customize. The Elite Series 2 comes with new interchangeable thumbsticks and paddle shapes, so you can better tailor the controller to your gaming preferences. You can now save up to 3 custom profiles on the controller and instantly switch between them and a default profile with the dedicated Profile button. New LED lights on the top of the controller indicate which profile is selected. The updated Xbox Accessories app* provides the Elite Series 2 with limitless customization for remapping buttons, triggers, bumpers, and paddles – this includes new features like remapping voice commands ('record that', 'take a screenshot' etc.) to buttons. You also get more choice in how you connect your Elite Series 2 to your devices, including Xbox Wireless, Bluetooth, and USB-C
Designed for extended gameplay and durability. For the first time ever, Microsoft have included a built-in rechargeable battery with up to 40 hours of battery life per charge. This long-life battery is designed to operate at its full capacity for years of use. The controller comes with a USB-C cable and charging dock, giving you multiple options for charging your controller.  The Elite Series 2 is built to last with re-engineered components including the bumpers, thumbsticks, and grip material for improved resilience.  The team developed new firmware to automatically calibrate thumbsticks for improved dead zone control. There's also a premium carrying case for added protection.
What's In The Box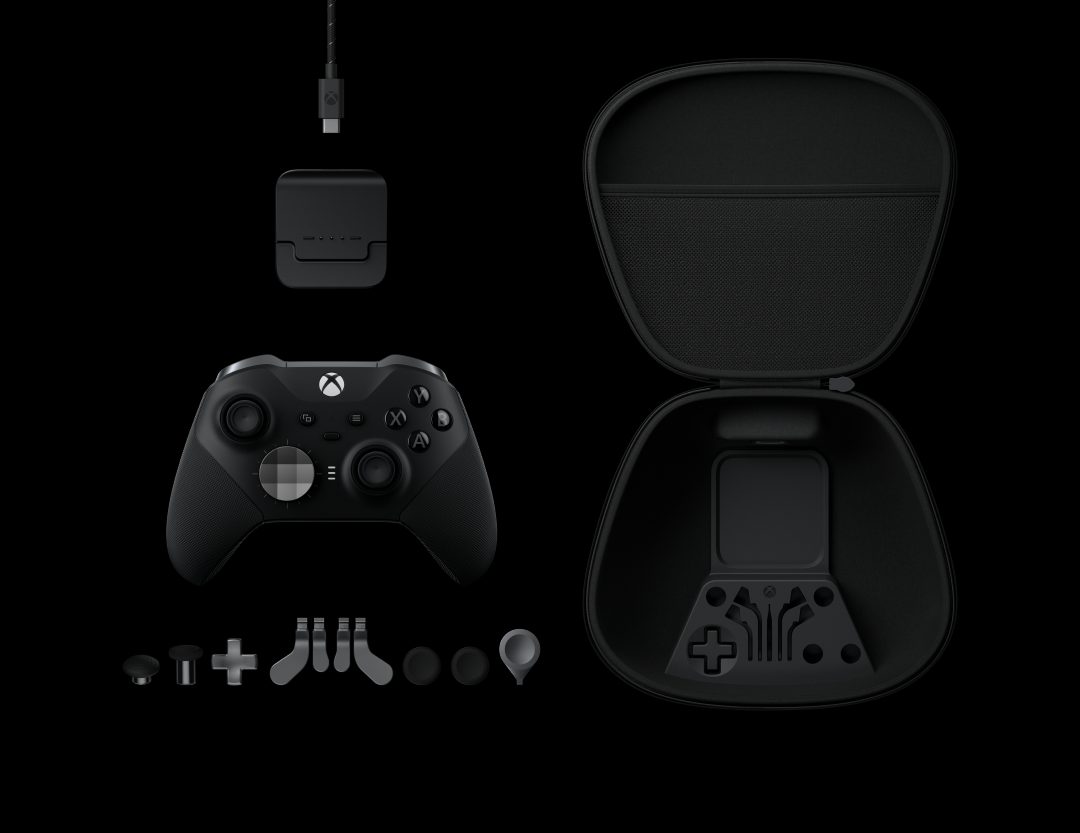 The Xbox Elite Wireless Controller Series 2 comes with premium components including a carrying case, set of 6 thumbsticks (2 standard, 2 classic, 1 tall, 1 wide dome), set of 4 paddles (2 medium, 2 mini), set of 2 D-pads (standard and faceted), thumbstick-adjustment tool, charging dock for in-case or out-of-case charging, and braided USB-C cable.
 When, Where, and How to Buy
The Xbox Elite Wireless Controller Series 2 will be available in all Xbox One markets, starting with 24 markets on November 4, 2019, including Austria, Belgium, China, Czech Republic, Denmark, Finland, France, Germany, Greece, Hong Kong, Hungary, Ireland, Italy, Japan, Netherlands, Norway, Poland, Portugal, Slovakia, Spain, Sweden, Switzerland, United Kingdom, and United States. The Elite Series 2 will retail for $179.99 USD MSRP and is available for pre-order now at most major gaming retailers including Microsoft Store.
*Certain features, such as profile creation and button remapping, require the Xbox Accessories app on Xbox One or Windows 10.
We at Attack On Geek absolutely loved the first iteration of the Xbox Elite Wireless Controller and can't wait to upgrade to Series 2 in November!