At some point in our lives, we've all had big dreams; dreams that are so far out of our reach we never thought it attainable. We've all wished for something that deep down, we truly believed would never come to fruition. For me, that dream was to meet the legend behind Marvel Comics' success, Stan Lee. 
I never, ever imagined that meeting Stan Lee would be a possibility. In my mind, I had to be financially able and lucky enough to travel to the USA and attend an impossibly hard to get in comic-convention (the most notorious one being the San Diego Comic-Con). Due to personal circumstances, and missing out on tickets to these shows, I was never able to fulfill my goal.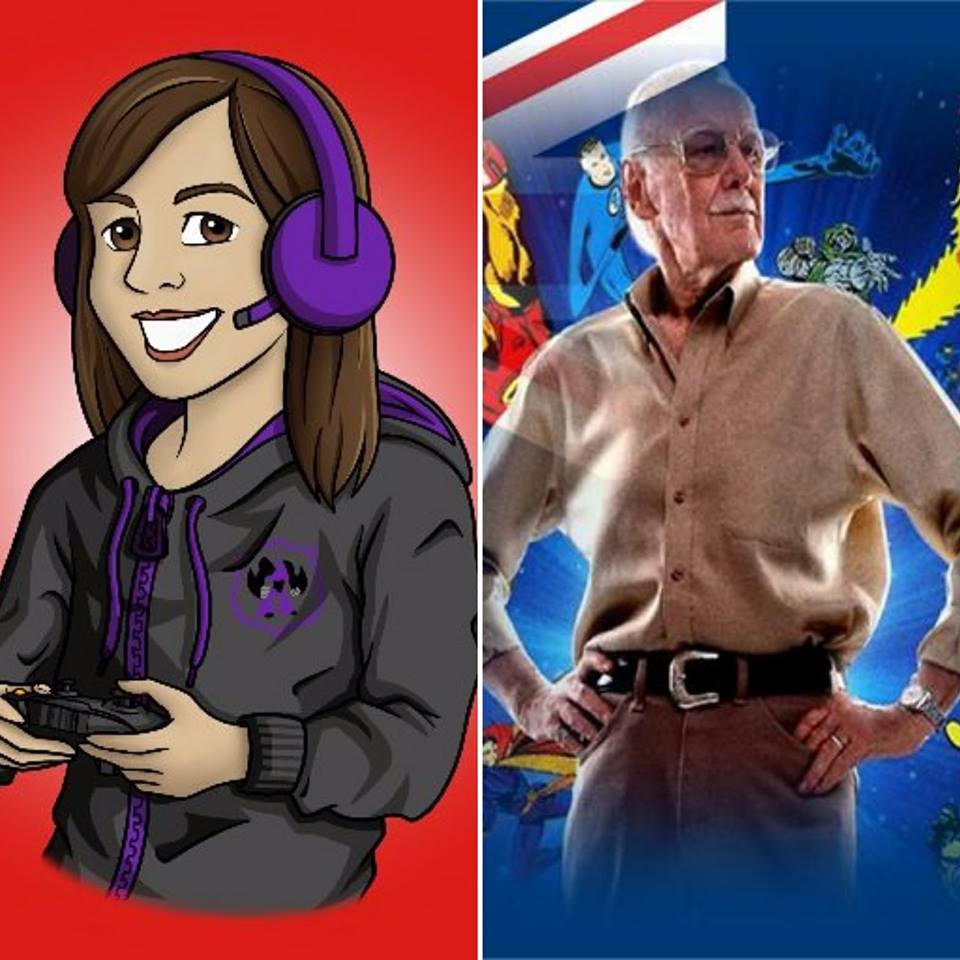 However, three years ago, the Supanova Comic Con and Gaming Convention brought Lee down to Melbourne as their headlining guest. I was beyond thrilled as Melbourne is only 3 hours away and wouldn't have cost too much. Unfortunately, that year was the same year I had been selected to attend a global symposium for my Communications postgraduate studies which was being held in Boston and New York, USA. I had chosen to use up all my savings to travel to the USA with a select few classmates well before the Stan Lee announcement was made. It was too late to back out as my flights were already paid and were non-refundable.
I kicked myself everyday since for not having enough to fly over to Melbourne. Stan Lee was 90 at the time and soon after his Australian trip, he announced that he would no longer travel overseas. I was extremely gutted. That was it. I no longer had even a small chance to ever meet the legend behind all my favourite heroes anywhere outside of the USA.
Earlier this year, I was invited to attend, as a member of the media, the Emerald City Comic Con in Seattle, a convention in which Stan Lee was attending. I was incredibly hyped and was prepared to put down money toward flights and experiencing Airbnb for the first time but a personal matter suddenly came up that made it virtually impossible to attend the convention. At that point I realised that it was time to give up on the dream and move on. The man was 94. There was a high chance that the convention would be his last as anything could happen. Of course, the sad news came a few months later that his beloved wife, Joan, with whom he was married for nearly 70 years, had passed away. Given that, I was so sure that Lee would effectively retire. 
So when Supanova Comic Con and Gaming ("Supanova") announced that Stan 'The Man' Lee was going to be back in Australia as a guest, I lost my mind with excitement! I had already spent a fortune taking the huge risk of giving up full time work to run Attack On Geek full time and had already booked a trip to PAX Australia in order to further promote Attack On Geek and learn from the industry experts. I was stuck between a rock and a hard place. Do I use what little savings I had left and run some fundraisers to meet my idol and essentially go broke OR do I take the leap and make my dream become a reality. Given his age and the fact that he could very well pass soon, I made the decision to go for it, and thanks to some support from a few incredible people, I managed to make a dream I never imagined to come true, become a reality.
Due to my lack of finances, I could only afford to spend three days in Brisbane for Supanova but boy what a busy three days it was! I landed early in the morning of the Friday, the first day of Supanova, and spent most of the morning getting to my accommodation. After leaving my luggage and collecting the comics that I wanted Stan Lee to sign, I made my way to the Brisbane Convention and Exhibition Centre. The doors were officially opening at 1pm but I was already in a line with many others at 11am. Stan Lee fans are dedicated!!
While waiting in line, I met two fellow True Believers and had a good yarn with them about comic books, Marvel and Lee himself. One of the guys I met was really nice and gave me some tips about how best to make the most of the convention.
Once the doors opened, everyone ran through, with most attendees running to wait in line to get their photo take with Stan Lee. I was one of those and was just so nervous at finally meeting The Man himself! Once it was my turn, I approached Lee, who was sitting down ready for his close up. We exchanged 'hellos', had our photo taken, I quickly said "thank you" to which replied "good job" and that was it. I was ushered out almost as quickly as I was brought in. The entire experience was extremely short-lived and went by as quick as  wink. I almost couldn't believe it had happened. Nevertheless, I felt butterflies and was just so excited that I managed to finally meet him in person. After I collected my photo, I took a look at the Stan Lee Collectibles stand and picked up some awesome exclusive comic books and prints, as I knew that I would never get the opportunity to do so again. I even made a friend there at the stand, who happens to be a fellow Twitch streamer!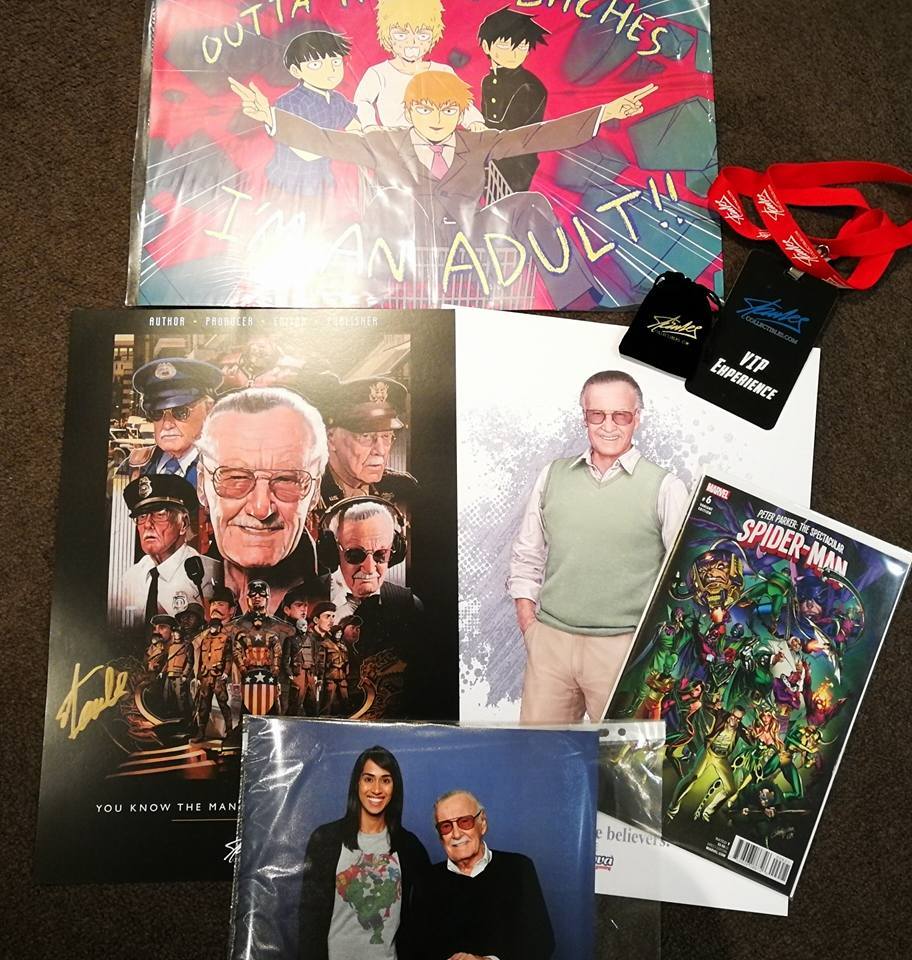 Next up was my autograph session where I waited in the wrong line (of course!) and was pulled forward by the same guy I had met earlier in the day. He gave me the 'friends perk' of being able to stand in front of the queue with him, which was really nice, and we chatted with a few others in line about old vintage comics and the value of them. Suddenly out of nowhere, someone mentioned that I should be right up at the front of the line as I had a VIP pass and within moments I was standing before Stan Lee with my X-Men comics in hand. What happened next nearly broke my heart. Lee looked fragile and was very much acting his age, needing help to write his name as well as being told where to sign. This was the man who energetically featured in several Marvel movie cameos! I couldn't believe it!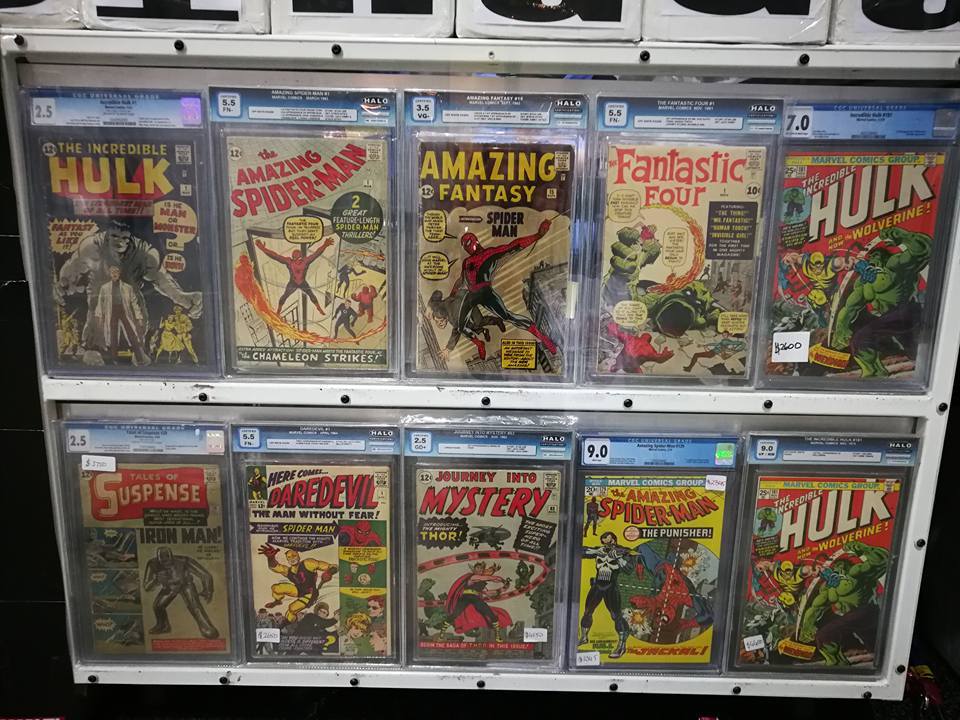 Once I had my autograph, I proceeded to get my comics certified and met some other attendees who were avid vintage comic book collectors as well, who engaged me in interesting conversation . When that was done, I finally had a chance to truly experience the convention, walking around to visit every stall. I was impressed to see the sheer amount of vintage and retro comic books on sale, some of which I never thought I would be able to see up close or even touch! It was such an incredible experience for the comic book nerd in me. Interestingly, the show was very much similar to our own Armageddon Expo, however, without much 'on show'. Essentially the convention was filled with celebrity guests and a whole heap of stands selling products. It was refreshing though to see Wizards of the Coast, Twitch, ZQ Racing Chairs and Mwave have a presence, promoting gaming to a very different demographic.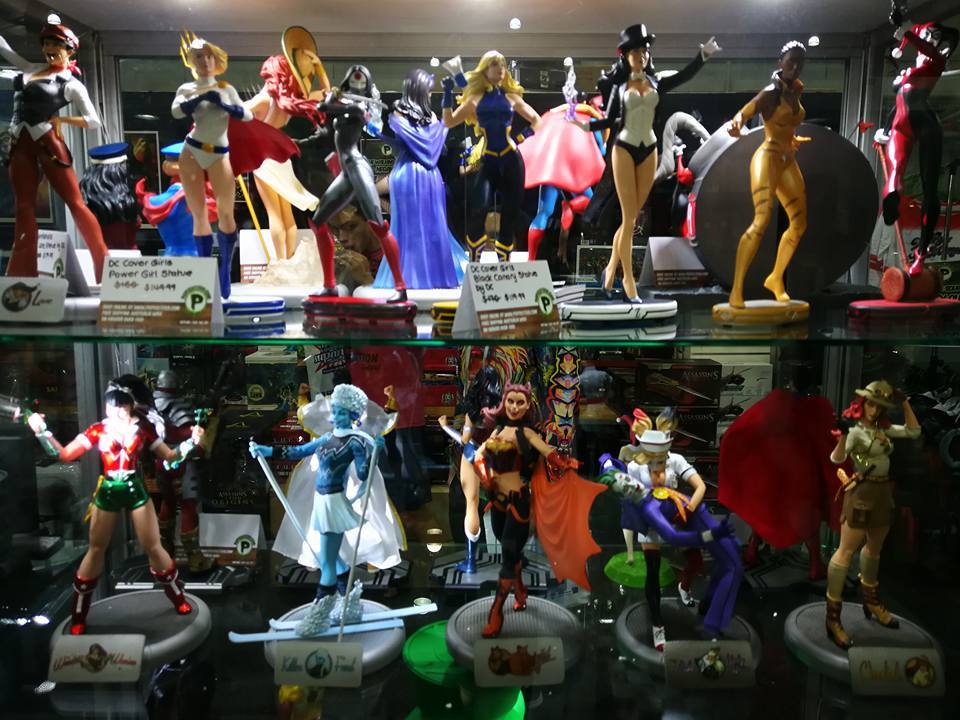 During one of my window shopping stops, my Marvel t-shirt caught the attention of one of the vendors, who also engaged me in a lovely conversation about comic book history. By the end of that, I was exhausted having been on my feet all day. Having finally achieved my lifelong goal of meeting Stan Lee, I retired back to the apartment I was staying at and passed out.
Part 2 of my Stan Lee experience is to come shortly 🙂