When Rudyard Kipling first wrote The Jungle Book, I'm sure he didn't foresee his creation inspiring generations with various animated and live action adaptations. With Disney's 1967 animated film, the story of the little man-cub, Mowgli, and his adoptive jungle family reached millions worldwide and was awarded the title of being a 'classic' film.
Now, nearly fifty years later, Disney has revisited its classic animated film to inspire a whole new generation of adults and children alike with its live action feature film of the same name, The Jungle Book. Directed by the talented Jon Favreau (of Elf and Iron Man fame) and with a voice cast which includes some of Hollywood's greats, Disney's reimagining of The Jungle Book takes viewers on a exhilarating trip down memory lane while arousing fun and enjoyment for all.
The Jungle Book follows Kipling's original tale of Mowgli, a young boy who has been raised by wolves and a panther after being abandoned in the jungle. Already feeling like an outsider, being a target of the ferocious tiger, Shere Khan, leaves Mowgli feeling unwanted and a danger to his jungle friends and family. Whilst the core of the film remained true to Kipling's tale and Disney's animated classic, certain aspects of the film's narrative appeared to have been edited slightly to encourage empathy and emotion. The Jungle Book's narrative was simply fascinating and despite minor changes, managed to carry the film successfully and maintain high interest levels.
The narrative was heavily filled with notions of family and was not averse to emotional scenes that clearly illustrated Mowgli's place in the jungle. One of my favourite aspects of The Jungle Book is that the wolf pack who raised Mowgli was given more screen time, which allowed viewers to clearly see the bond that Mowgli had developed with them, especially with his adoptive mother, Raksha and little brother, Grey. Raksha, who barely had much presence in the animated classic, was depicted as a strong and protective mother, who loved all her children equally. Lupita Nyong'o, who voiced Raksha, did a brilliant job of bringing on the 'feels' in her emotional scenes with Mowgli. 
Lupita Nyong'o wasn't the only one who voiced her character splendidly. I was taken aback and was slightly giddy with excitement at how fantastic the entire voice cast was. Ben Kingsley and Bill Murray, who voiced Bagheera and Baloo respectively, did a magnificent job in portraying their characters exactly as how Disney first envisioned it, going so much as to act and sound very much like the animated characters did. Shere Khan, voiced by Idris Elba, actually managed to scare me a little with his menacing and threatening mannerisms and actions. I have to admit that King Louie, voiced by the great Christopher Walker, was superb and simply larger than life (perhaps literally). The only character that I felt wasn't given nearly enough screen time and didn't exactly inspire any feeling in me was Scarlett Johansson's Kaa. Then again, I might be biased as I'm not at all a fan of Scar-Jo. Nevertheless, what a trip it was to watch these characters on screen and be reminded of my childhood, watching animated versions of these characters and being mesmerised by them.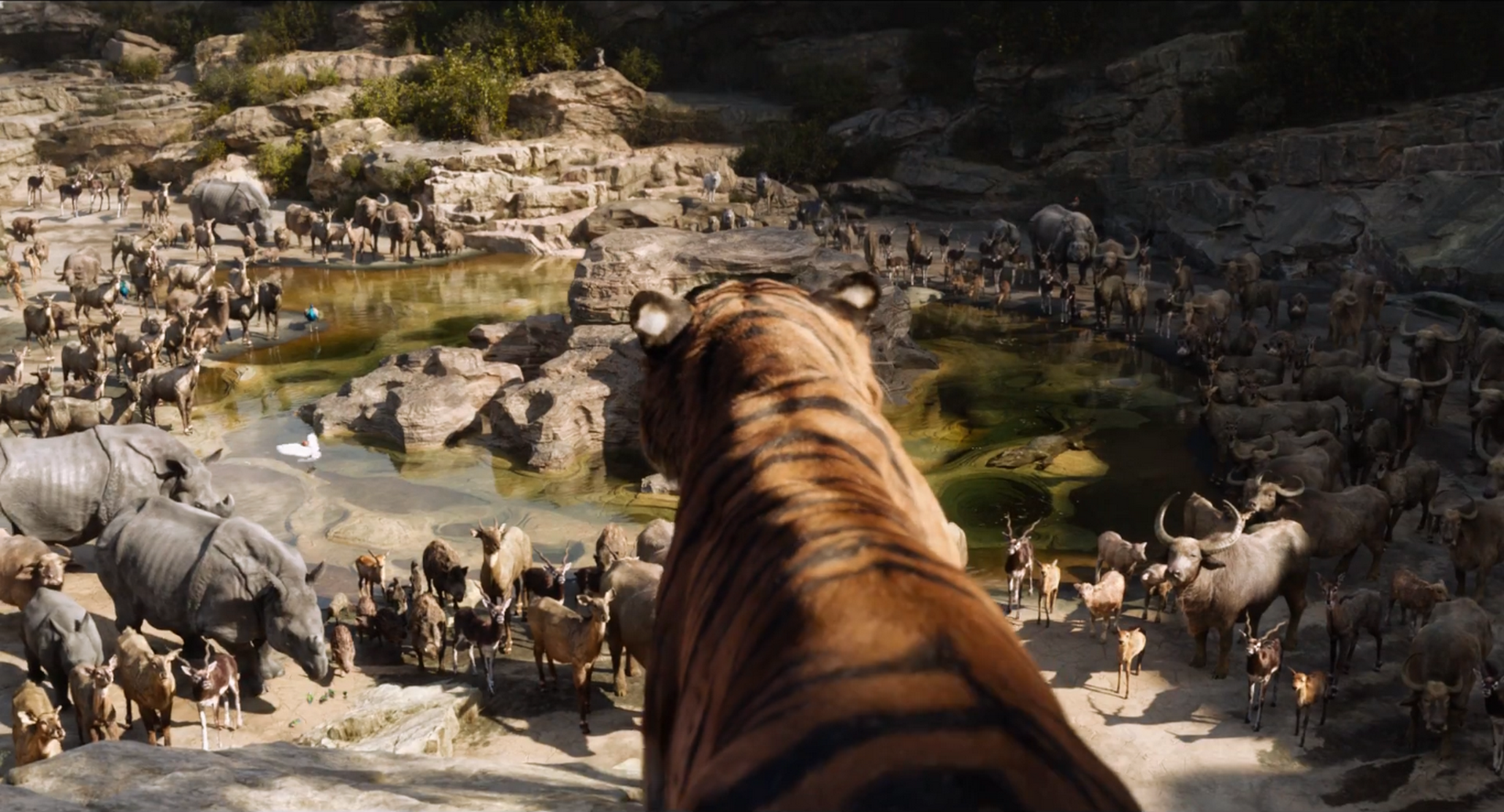 Utilising modern technology, Disney's live action remake creates a much more believable, realistic environment with breathtaking landscapes and animals that looked real and true to their nature. This made The Jungle Book beautiful and stunning visually, which is something that I personally look for when determining my enjoyment of a film. Watching the film in 3D only added to the amazing experience and allowed for more realism into the adventure that Mowgli and his friends embarked on.
A Disney film is never quite complete without an amazing, gripping soundtrack to enhance the narrative. Like previous live action Disney films, The Jungle Book's story was intensified by its soundtrack which inspired both emotion and excitement. I was thrilled that two of The Jungle Book's most notable songs were featured, something that was completely unexpected.
The Jungle Book, a tale that was first release in 1894, is one that has been told over generations and enjoyed the world over. Disney's 2016 live action remake will no doubt go down in history as a classic, much like its animated counterpart, in my book at least. With a fantastic narrative and visuals befitting today's modern age, The Jungle Book is certainly an excellent starting point for more realistic and adventurous Disney live action remakes. A film to be enjoyed by adults, children and people from all walks of life, The Jungle Book is 2016's must watch film and one I highly recommend.
The Jungle Book opens in cinemas this month. Be sure to check it out and let me know your thoughts.