Most of you know that I typically play games using an Xbox controller and find gaming on a keyboard quite challenging. Regardless, I've always been fascinated by gaming keyboard technology, especially in the way in which these are designed to enhance performance, provide prolonged comfort and all the while maintaining functionality. So, when I was given the opportunity to review the SteelSeries Apex 3, I jumped at the chance, just to see how I would feel using a gaming keyboard not only for gaming but for everyday use as well.
Thankfully, SteelSeries offered the Apex 3 keyboard just as we entered COVID-19 lockdown here in Melbourne, which was a great help given that I'm now working from home and needing to use comfortable peripherals. So just what is the Apex 3? Read on for my review. Though, please bear in mind that I'm not a seasoned PC gaming pro with a working knowledge of peripherals beyond the basics, so this review is more catered towards casual gamers and those, who like me, aren't tech savvy.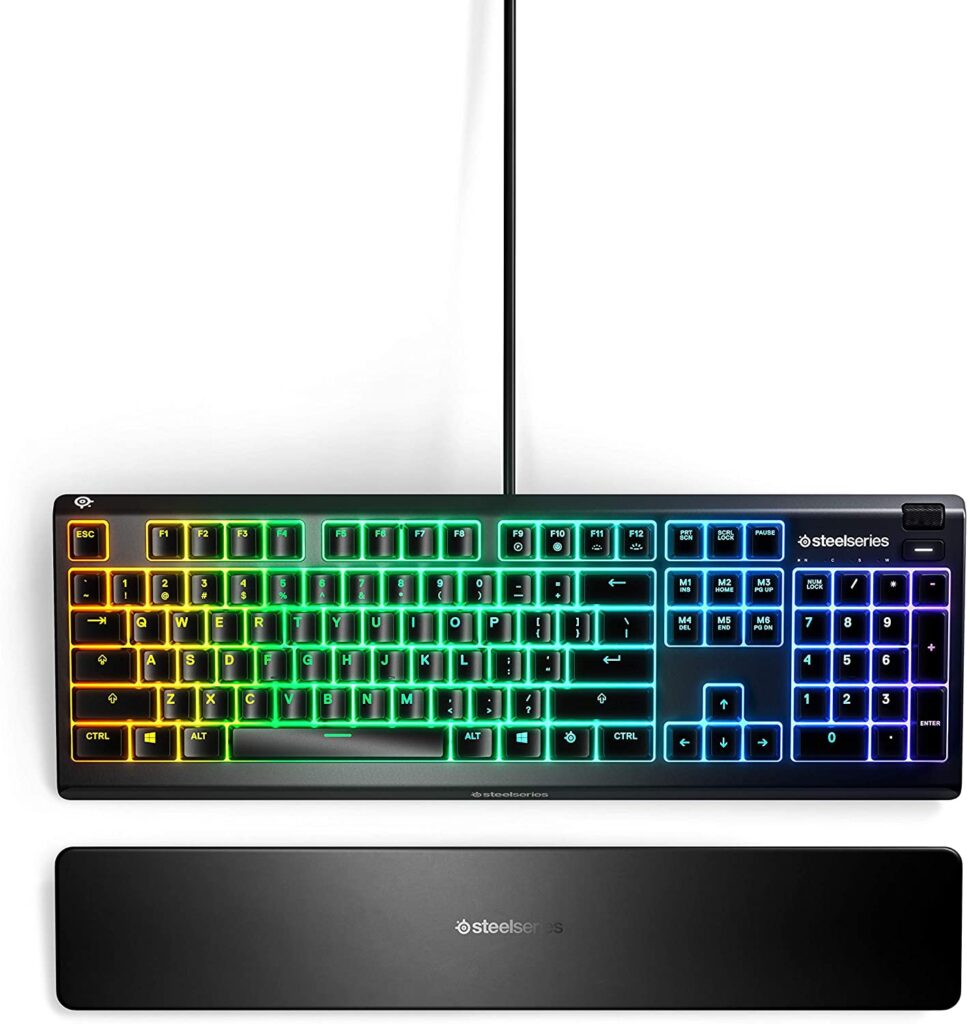 Design
Right from the outset, the Apex 3 looks good. It's polished black casing gives off a sleek and elegant look despite being considered a budget keyboard. As a full sized keyboard, number pad included, the Apex 3 looks similar to many other mechanical keyboards in the market. Yet, it doesn't quite have the same weight and feel of a mechanical keyboard. It's light, almost surprisingly so, and is compact looking enough to suit any gaming set up.
While able to be used on its own, the Apex 3 also comes with a palm rest that allows for more ergonomic use, a blessing for those of us who use the keyboard for everyday typing tasks as well. This palm rest is magnetic, making it simple and easy to add on and remove whenever necessary, while maintaining its place on top of a desk with the rubber feet at the bottom holding the palm rest in place.
But what about media controls, I hear you ask? Right on the top of the keyboard is a multimedia volume roller and media button that make it far easier to control your media outputs like volume, brightness and other display settings on the go, without needing to go fishing for settings to control the keyboard. This makes it much easier to control while in the middle of a fast paced game, for instance.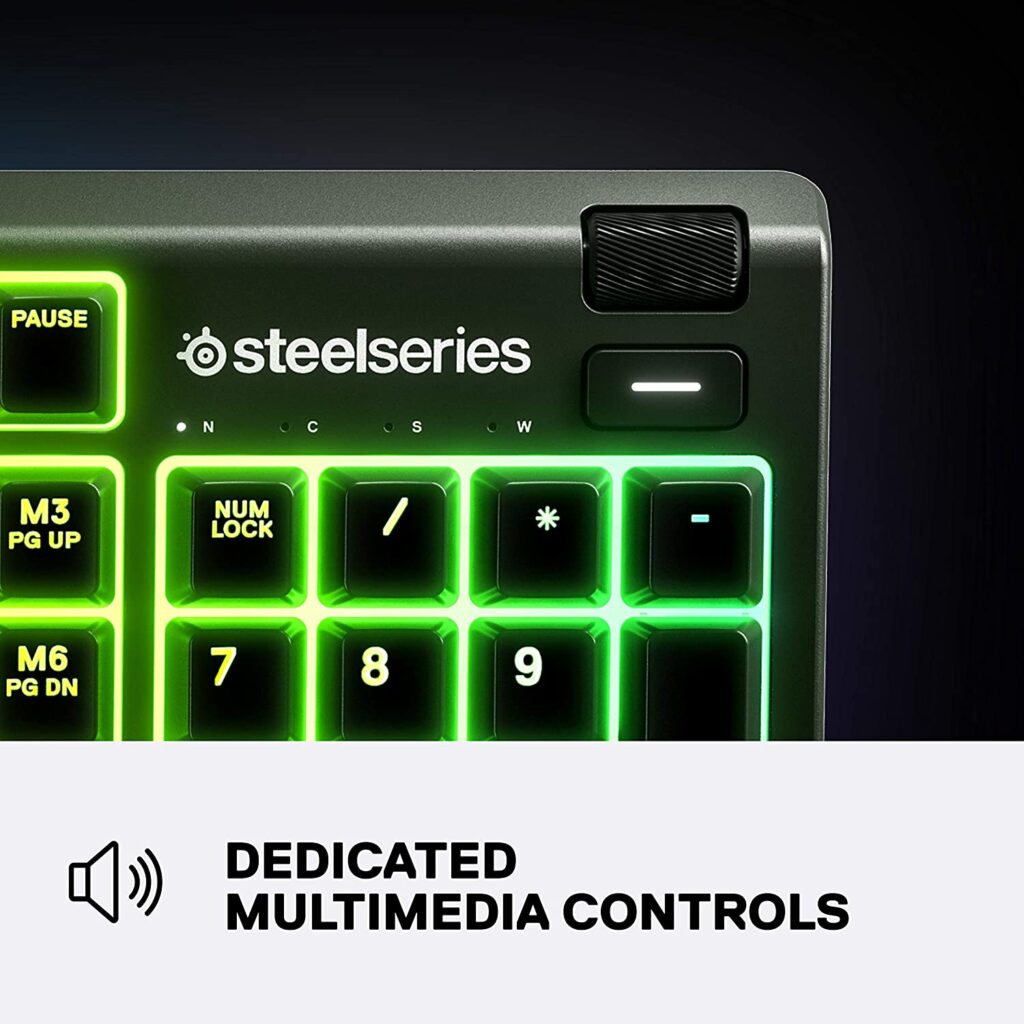 RGB
RGB lighting and effects are these days synonymous with gaming peripherals, and so it comes as no surprise that even a 'budget' keyboard like the Apex 3 would incorporate RGB lighting. This keyboard comes with a '10-Zone' RGB lighting that can be personalised using the SteelSeries Engine 3 software. Though I haven't played around with the customising the lights on my keyboard, the RGB lighting can be programmed to create a range of cool effects, including reacting to in game action, and believe it or not, Discord notifications too!
Though RGB effects are quite standard in peripheral technology, I'm a bit technology challenged with using various different software that I'm not used to using. Though I haven't been playing around with effects on the SteelSeries Engine 3 software, I do thoroughly enjoy the fact that plugging the keyboard in immediately illuminates the keys, giving off aesthetics that are so on point.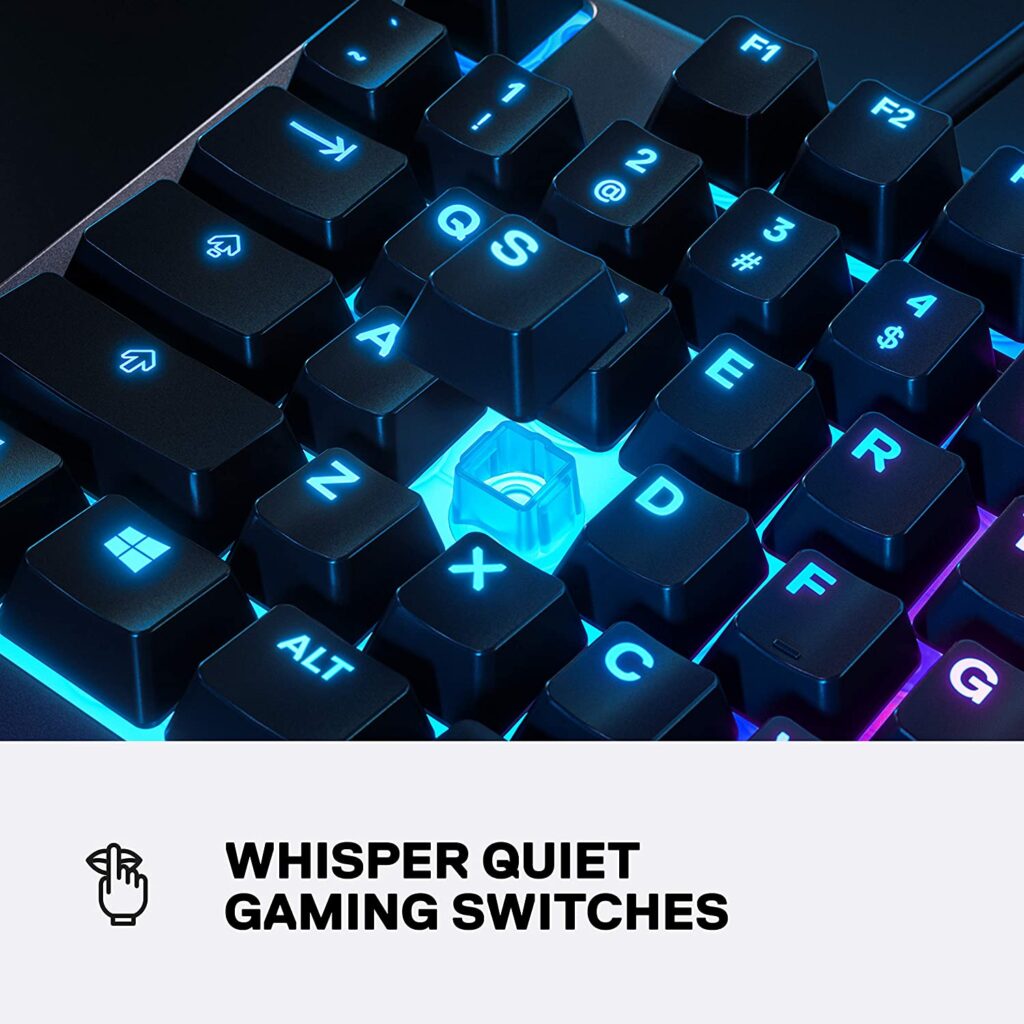 Usage
The Apex 3 utilises 'Whisper-Quiet' membrane switches instead of mechanical switches. What does this mean? Well, two things become increasingly noticeable: pressing the keys felt a lot deeper (or slower I suppose if I had to describe correctly) and typing on the keyboard was significantly softer than the click-clack of a mechanical keyboard. This to me, was ideal, and I had half a mind to switch this keyboard out with my partners simply to not have to put up with the loud typing of his keyboard.
The keys all felt so smooth to the touch, making it perfect, not only for gaming purposes but for touch typing too. The thing that I struggled with, due to using a laptop with only 3 USB ports, is that there isn't a USB port on the Apex 3 to allow me to connect devices that I would normally connect to my laptop in place of the Apex 3 keyboard. Nevertheless, it was a sacrifice that I was willing to make, given how comfortable using the Apex 3 was compared to the laptop's built in keyboard.
Given that I spend hours a day at my computer, typing from morning to evening, having the palm rest really helped with preventing my wrists from hurting. It felt comfortable and natural resting my palms on the palm rest and typing at a slightly inclined height that appeared to suit my hands much better.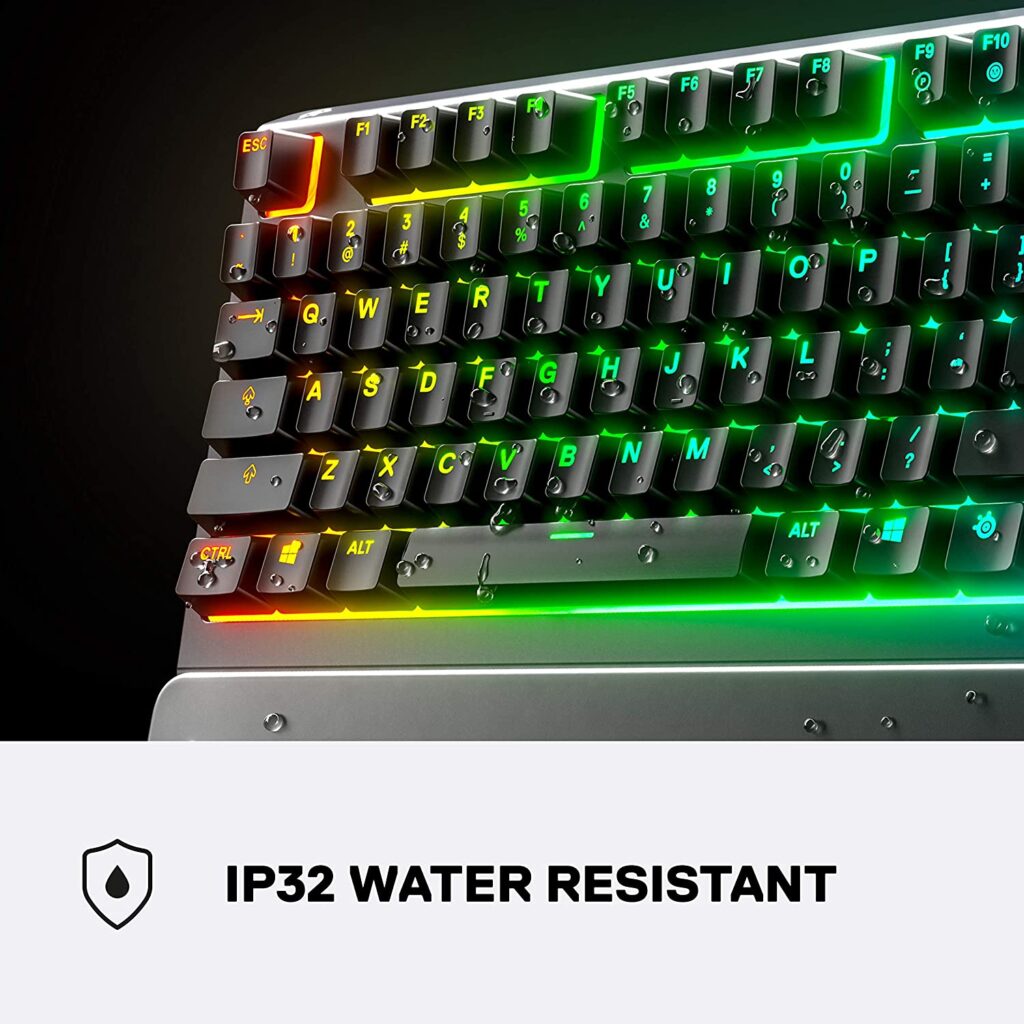 Water Resistance
A keyboard that is water resistant? That's something that I was certainly curious about. The Apex 3 boasts being water resistant, making it another reason to be the perfect keyboard for prolonged use, especially for gaming where you might have sweaty hands that might leave traces on the keyboard or you might accidentally drop a drink on to the keyboard. While I didn't drop any water or liquid to test the keyboard's water resistance, I did notice that the keys never looked 'grimey' regardless of how long I used it (unlike my laptop's keyboard which has finger prints all over!). This, to me, puts less pressure on me to avoid having any drinks nearby the keyboard while gaming, which also means, gamers who are parents can rest assured that nothing serious will happen to the keyboard if your child accidentally spills water on the keyboard.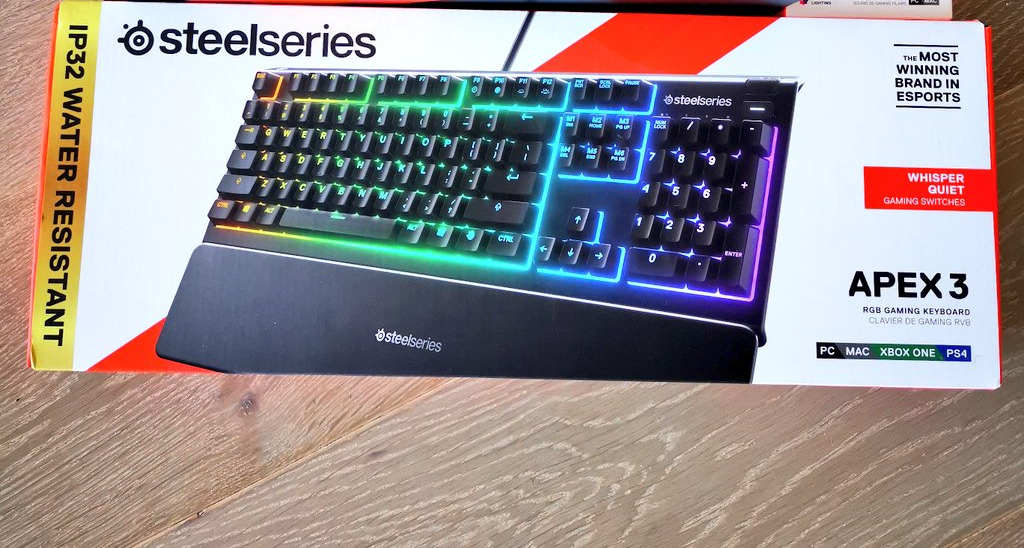 Overall
The SteelSeries Apex 3 might be considered a budget keyboard, given its price point but for someone like me, who plays games casually and does a lot more typing for work and such, the Apex 3 is a godsend. Its comfortable keys and palm rest make for ease of use long term, while its RGB lighting gives me a sense of being a 'pro gamer'. Of course, the big selling point, in my opinion is the fact that its easy enough to use, has quiet keys, is water resistant and therefore makes for a great gaming keyboard not only for myself but for younger kids who enjoy gaming too! Sure, it might not have mechanical switches or a USB port but overall, it does the job and is value for money.