Life seems bad enough when you're a troubled teen. It gets even worse when you're the son of Satan.
Blue Exorcist is a supernatural, action anime series adapted from the manga of the same name, which took its inspiration from a Brothers Grimm fairy tale and includes several Biblical themes and references. The anime follows Rin Okumara and his twin brother, Yukio, two young teens raised by Father Fujimoto, the Priest of a local monastery. If being raised by the church isn't tough enough, life gets even more complicated for the Okumura brothers when it is revealed that they are the sons of Satan.
The pace of Blue Exorcist is set very early on in the anime, with a major turn of events causing Rin's inherited demonic abilities to come alive and lead him on the path of vengeance against the one man who destroyed everything he held dear, his own father, Satan.
Naturally, coping with something new and unnatural, as well as being feared by most of your peers, is not easy. The main theme of Blue Exorcist, which is essentially the concept of being different and 'alone', certainly resonates with me as I'm sure it does with many others too. As a teenager, most of us struggle with coming terms with who we are and wanting to fit in with everyone else. It wasn't easy was it?
Instead of dwelling on how his life has changed dramatically and the fact that his twin brother remains human, Rin channels his anger and frustration over the havoc Satan has wreaked, towards becoming an exorcist. An interesting and rather unusual idea for a demon to want to destroy his brethren and join forces with the 'good guys'.
The story of Blue Exorcist was amazing and full of suspense. There was never a dull moment as Rin, his brother and fellow exorcists in training were constantly subjected to demonic attacks and exorcist tasks that kept them on their feet. It was incredibly cool to see these amateurs do so well in fending off attacks. What wasn't cool was the lack of real, substantial help from the exorcist school's teachers. Though one or two were rather funny in their characteristics and behaviour.
The characters were all well done. Each character played an important role in Rin's life and his quest to defeat Satan. One or two specific characters even portrayed an air of great mystery that kept me guessing and left me without a solid answer as to which side they were gunning for, which was an interesting feeling to have.
Not only did the characters intrigue me, but the entire concept of God, Catholicism, and demons brought on rather peculiar discussions and debate as not everyone holds the same faith and belief. For an anime, Blue Exorcist deals with this subject well, without drawing too much of religion in and keeping the story black and white (that is, good vs evil). We see these concepts evident especially during a special turn of events or twists that you would not see coming.
I really enjoyed the comedic moments in Blue Exorcist and the funny facial expressions the characters had, not to mention the warm fuzzies I felt where the exorcists' familiars (pets that assist them) were concerned. One in particular, a two-tailed cat, was just too cute!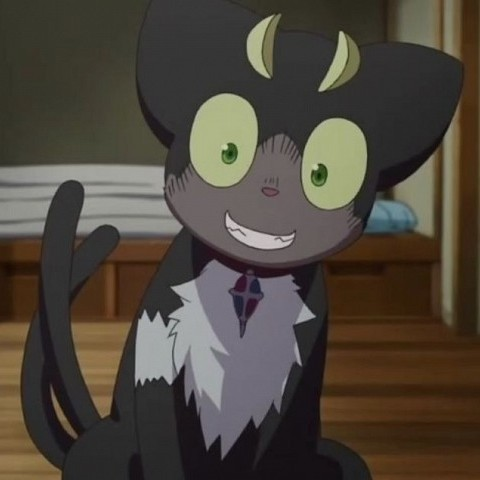 Like every other anime, one thing that I personally find important is the soundtrack. An anime's story and narrative is never really satisfactory unless it is backed with appropriate soundtrack. With Blue Exorcist, I was pleasantly surprised. The music and soundtrack was fantastic and moving. It helped spark an emotional response and spurred the narrative on.
The last few episodes of Blue Exorcist are fantastic. A sudden, shocking twist sees brother against brother, father against son, and the standard good vs evil as Satan returns to claim what's he believes to be his. I really enjoyed sitting through the complete series collection of Blue Exorcist.
If you enjoy the idea of a biblical battle between good vs evil, check out Blue Exorcist (you can get your copy here) and let me know your thoughts. I'd love to hear them!